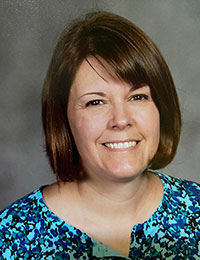 Karen Nicholas and her family have made Aurora their home for fourteen years. An educator for over twenty years, she has taught at SciTech STEM Academy and Wesley Preschool in Aurora. Karen holds a Master of Science degree in Elementary education, and recently added Early Childhood Education and English Language Learning to her teaching credentials. Karen strives to help children develop their curiosity and creativity and to experience joy in education so that they may become lifelong learners who will go on to make positive contributions in their communities.
Karen joined the APLD Foundation Board as part of her commitment to education and to creating a thriving community through active involvement. In addition to serving on the foundation board, Karen was a founding board member of the Aurora Film Society. She can often be seen volunteering at Aurora Downtown events such as First Fridays and Alley Art Fest, and with other community organizations.
Public libraries have always been an important part of Karen's life. She vividly remembers the excitement of getting her first library card and the empowerment of getting to select and check out books on her own. She continues to take advantage of the many resources, programs, and events that the public library has to offer. Karen looks forward to working with the foundation board to support the continued success of the Aurora Public Library District for the benefit of the community.