Aurora came together to innovate literacy solutions!
We more than doubled our goal – thank you!
From October 9 through 17, the Aurora Public Library District Foundation hosted a virtual 5K as a means of raising a goal of $5000 for our Vulnerable Children's Fund.  The donations made through the Lace Up for Literacy Virtual 5K were used to provide literacy packets and dual language books which were delivered to families in need through our partnership with the Marie Wilkinson Food Pantry and the Aurora Area Interfaith Food Pantry.
Through the generosity and involvement of our community, we had over 150 participants and more than a dozen sponsors who made it possible to not only reach our goal, but to more than double it!
Take a look at our photo showcase below of some of our 5K participants who participated in the 5K and the list of people and organizations that made this such a successful event for the children we support.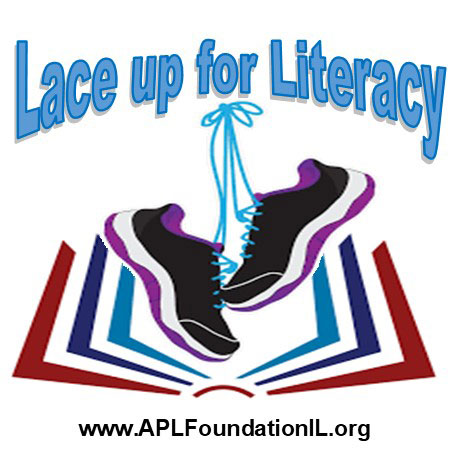 Many thanks to our sponsors for the Virtual 5K Walk/Run:
Helping Others Heroes 
Clear Perspective Advisors
John and Jean Savage
Alderman Patty Smith
Stumm Insurance, LLC
Waubonsee Community College
Light of Learning Heroes 
Delia Nila Basile
Scott and Kelly McCleary
Alderman William Donnell
Alderman Mike Saville
Happy to Help Heroes 
Artlip and Sons, Inc.
Aurora Downtown
Jeffry and Patricia Butler
Cruz Investments & Wealth Management
Alderman Carl Franco
Alderman Juany Garza
GreenBridge Financial Solutions
Hallett Movers
Illinois Tejano Organization
Alderman Sherman Jenkins
Alderman Emmanuel Llamas
Old Second National Bank
R.C. Wegman Construction Company
State Farm
Judge Michael and Pamela Colwell
Amy Frankel
P. William and Robin Marlowe
Whitt Law LLC
Cheryl Heinz
Ann Iglesias
Marianne Renner
Dalila Alegria
Mavis Bates
Patrick Benson and Dulcinea Basile
Tim Bixby
Henry and Ileana Brooks
Nisha Chottepanda-Floyd
James and Vicki Clarke
John and Wendy Connell
Maria Del Carmen Hidalgo
Maria Deleon
Jana Faris
Becky Good
Doug Hoff and Michaela Haberkern
Jennifer Haurykiewicz
Dianne Lafaurie
Kyle Lorenzo
Mireya Luna
Catherine Ng
Neil and Elizabeth Nicholson
Meredith Reiniger
Ryan and Melissa Rinaldi
Jaclyn Streitfeld-Hall
Laureen Strohl
Michael and Sarah Swanson
Michele Thompson
Megan Tommer
Michael and Tiffany Verzani
Rick Weichenhain and Laura Stoney
Rita Winiecki
Will Wong
John Bell
Karen Carew
Jamie Carroll
Carolyn Swafford
Jennifer Wyeth
Carri Ables
Christina Campos
Cassie Carbaugh
Rayanne Carlson
Kathleen Code
Colonial Cafe
Jeff and Darlene DesJardine
Kimberly Dickinson
Wayne Edwards
Rachel Gilmer
Sreya Jayaprasad
Laura Martinez
Ian McCleary
Erika Mer
Saul Olivas
Matthew Orr
Jenny Pawlowski
Hortencia Paz
Maricela Perez
Zaida Rodriguez
Daisy Sanchez
Julie Saros
Amelia Simpson
Debbie Smith
Zachary and Angela Van Vuren
Ravi and Ratna Avasarala
Goody Bag Sponsors
AMITA Health
Aunt Martha's Aurora Health & Outreach Center
Banana Split
Fox Valley Park District
Palmer Packaging Inc.
Rush Copley Medical Center
Sci-Tech Hands On Museum
Spartan House
VNA Health Care