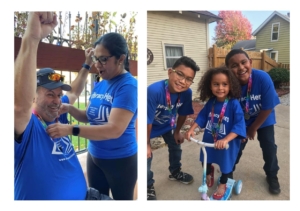 Over 150 participants and dozens of sponsors joined efforts to help raise funds for the Aurora Public Library District Foundation's (APLDF) Lace Up for Literacy Virtual 5K run that took place October 9 through 17th.
The Foundation works to innovate literacy solutions for vulnerable children and families within the library district.  Foundation president, Christina Campos, said that this was the first virtual event they had attempted since the pandemic put a hold on their regularly scheduled in-person events.
Proceeds from the event will provide more literacy packets to help Aurora's children and their families. "We set an initial goal of raising $5,000 and were thrilled to have more
than doubled that amount, due to the generosity of our sponsors, donors and participants. I could not be more grateful with the support we received from our community," Campos shared.
The Vulnerable Children's Fund was established in response to Covid-19. Supporters of the Vulnerable Children's Fund are people and business partners who help bring books
and literacy materials to underserved children and families in Aurora. These supporters are Literacy Heroes!
This effort began in April with a partnership between the Foundation and the Marie Wilkinson Food Pantry and the Aurora Area Interfaith Food Pantry.  These Hunger Heroes joined forces with the Foundation and so far, more than 8,000 books and literacy packets have been distributed to families who receive food from the pantries. Proceeds from Lace Up for Literacy will make it possible to distribute more packets!
Lace Up for Literacy Sponsors:
Clear Perspective Advisors
John and Jean Savage
Alderman Patty Smith
Stumm Insurance, LLC
Waubonsee Community College
Delia Nila Basile
Scott and Kelly McCleary
Alderman William Donnell
Alderman Mike Saville
Artlip and Sons, Inc.
Aurora Downtown
Jeffry and Patricia Butler
Cruz Investments & Wealth Management
Alderman Carl Franco
Alderman Juany Garza
GreenBridge Financial Solutions
Hallett Movers
Illinois Tejano Organization
Alderman Sherman Jenkins
Alderman Emmanuel Llamas
Old Second National Bank
R.C. Wegman Construction Company
State Farm
We are grateful to our sponsors and all donors!  For a complete list of all donors visit our website at www.APLFoundationIL.org.